Winter in the northeast has the effect of making ordinary things just that much harder to do.
For example, take preparing for a commute. Instead of simply donning an outfit of choice (or, dictated by limits from laundry) and shoes and slinging a bag over one's shoulder to head out the door the process elongates until minutes turn into quarter-hours and lateness ensues.
Considerations of appropriate footwear (with adequate tread? waterproof? extra shoes for indoor wear at the destination?), pair(s) of socks, accessories (hats/scarves/gloves) more for function than cuteness (aka, more things to lose on the journey, at shop check out lines, while paying for lunch, etc), the right ratio of thickness of clothing layers. Goodness, there isn't really time enough to think about matching all the iterations of outerwear and accessories every day. There's simply a pile in my "to-go" basket by the front door, nestled alongside granola bars ready to be snatched up as an afterthought while I pick up my keys in one fell swoop.
Some days, the famed blueboots after which this blog is named are sufficient. Sometimes, the simple addition of a fleece liner makes the inside-boot temp manageable. Other days, fur-lined ice-melting snow boots with rubber spikes are requisite for the day's trek. If you live in a cold place, I'm sure you can relate.
Ordinary errands, such as going to the bank or getting to the post office becomes a matter or whether or not it is safe to run briskly from door-to-door without slipping and falling on black ice (and estimating if the waning light at the end of the day is just so to be able to detect  the sly patches coating sidewalks) or sliding into slushy piles at the cross walks, in an effort to minimize cold weather exposure.
Today, however, besides these more functional dressing dilemmas, I understood the crux of why getting dressed every day is  such a challenge for me.
On any given day, I have equally strong drives to wear cute, decorative, colorful clothes (the ones that demand of the owner, in no uncertain terms, that they "lay flat to dry," or be "hand wash[ed] only," and "dry clean[ed] only") AND to be incredibly comfortable by wearing usually flexible fabrics that stretch, t-shirts, and anything that doesn't need a belt.

As a result, I take an inordinate amount of time to pick a dressing side, and thus step into a more-or-less daily dilemma.
Once upon a time, I would get dressed intuitively and pull things from hangers in the closet. Now, my closet is THE closet at our current residence, and sadly, I prefer many things over going in there to decide on a blouse and sweater with my back pressed against tool sets, screwdrivers, Swiffer boxes, and while standing under towering boxes above in general storage. I recently read an article posted here and am grateful for a larger living space than is described here, but still – some days, I feel like writing a series called, fondly, "From My Shoebox, to Yours."
My desire to be comfy stems from how affected I am by how I feel, I suppose. Being the right temperature (not freezing and not burning up) is a constant challenge question to triumph over and makes a big difference in how well the day goes. A nice outfit breeds confidence, but a comfy one brings about a relaxed "no-worries I can handle it all attitude" as well. I don't generally love to wear skirts, and especially not in the winter, but the experience of being constricted about the waist (or hips, in some cases) with belted bottoms- probably, in jeans that don't quiiiiite fit perfectly- makes me think twice about slipping on a skirt that will make me much colder in below-freezing temps.
At the other extreme, I would really love to get my wedding dress out and wouldn't mind walking around town in it. It's beautiful, wearable, and I love it. After all, I custom-designed the details… But, if I think about this fantasy for more than a minute, I change my mind and consider any other of my fanciest dresses that I could wear and have to sigh, for I really can't imagine wearing my gold-sequined dress to Trader Joe's. Plus, in the winter, it would be hidden anyways under my puffy black jacket ;).  Here are a couple of delightful shots taken by ForeverCandid Photography from our wedding this past June 2013. 
So, there is one dress that I have, which is something in between the two extremes of dressing I discussed, which falls between these two dresses below from the Anthropologie website in terms of color and style. This kind of dress has the potential to bridge the gap somewhat, between Dressing Up and Dressing Down. It is from Anthropologie, and  from a line they carry called Saturday/Sunday which primarily makes loungewear such as these, but with the right jewelry, scarves, shoes and some warm leggings I find it to be a fair compromise base upon which to add other more interesting elements. Perhaps I should be embarrassed that I enjoy wearing loungewear outside, but perhaps I should also own it! I don't buy the "pain is beauty" slogan. Wearing outright uncomfortable clothing (or, commonly in the case of women, shoes) probably readily reflected in one's visage as a permanently wincing face, which takes away from natural beauty potential, yes? Oh! No, no. That just won't do.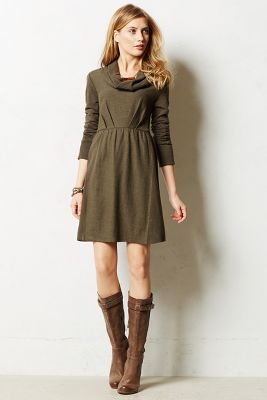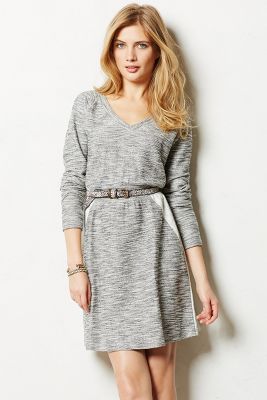 In case you're interested, here are some more pieces by Saturday/Sunday. I read an article this past week that stylish people – the ones that are captured by the Sartorialist, for instance on the streets of NYC, Paris, or Rome, for instance – aren't wearing designer goods from head to toe, but can wear a couple of pieces from a thrift store along with a designer pair of shoes, a bag, or sunglasses. Street Style, is a many-splendored thing, folks. Above all, every time I peruse Street Style photography (great example: Sartorialist) I come away inspired and reminded that really, "stylist" "cool" "fashionable" wear isn't so much for public consumption, but a form of expression of being. It doesn't matter that I might never wear most of what is captured, but if I see something unusual but causes me to think, I can at least hope that the person wearing the outfit is quite comfortable in their own skin.
It is somewhat of a comfort to realize the kind of person I am and to acknowledge the beast of the Dressing Dilemma so that I could take the stressing out of dressing each day. Perhaps making dressing into a science is one idea – lining things up in the closet methodically and taking the deliberation out of the equation altogether. Or, I could really seize this challenge to come up with some strategies to successfully dress up really casual, comfortable things without others noticing (!) That, would be a little victory in itself… Readers, any ideas? What are some of your most common Dressing Dilemmas?
Happy Friday!
BlueBoots